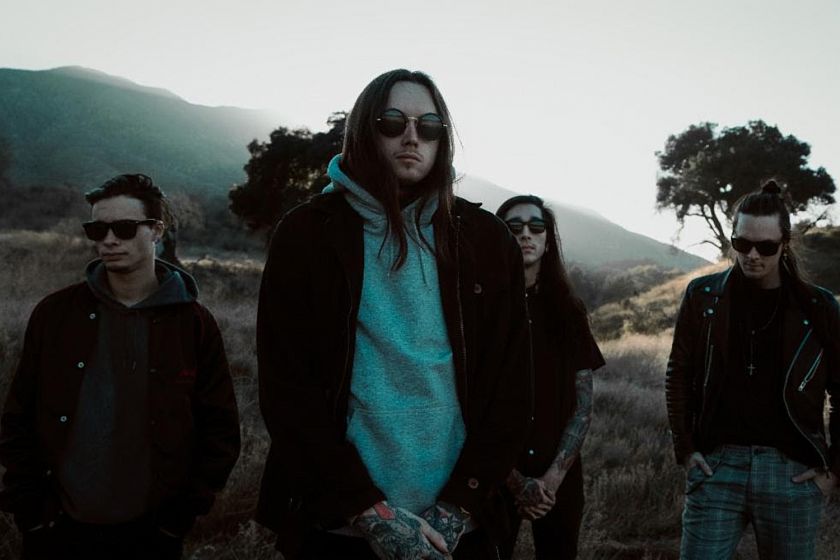 Bad Omens
Bad Omens
Meticulousness ensures singularity. Bad Omens carefully direct each nuance of their music, approaching the process with an auteur mindset. The California quartet—Noah Sebastian [lead vocals], Joakim "Jolly" Karlsson [lead guitar, vocals], Nicholas Ruffilo [bass], and Nick Folio [drums]—explore the enigmatic idiosyncrasies of their signature sound on 2019's Finding God Before God Finds Me [Sumerian Records], imbuing cinematic electronics and gospel stature into metallic melodies.
Produced by Noah and Jolly, the ten-track trip unfurls like the sonic equivalent of a gripping existential drama.
"What makes us a rock band is the fact we play instruments, but we've always been pretty experimental in terms of post-production," explains Noah. "We dove after a specific sound without boundaries. What separates us is the attention to detail in every song."
Bad Omens diligently worked to hone this approach since their 2016 self-titled debut. As the entire tracklisting tallied nearly 30 million streams, the breakthrough single "The Worst In Me" leapt past the 8 million mark on Spotify. Meanwhile, "Glass Houses" clocked 4.7 million Spotify streams, "Exit Wounds" racked up 2.6 million Spotify streams, and "Reprise (The Sound of the End)," "The Fountain," "F E R A L," and "Enough, Enough Now" each exceeded 1 million-plus on the platform. Along the way, they received looks from Alternative Press, New Noise, and Revolver and toured alongside everyone from Parkway Drive to Bullet For My Valentine and Asking Alexandria. Following Warped Tour 2017, the group commenced writing for what would become Finding God Before God Finds Me.
In addition to expanding the sonic structure under the influence of the Hillsong UNITED and other gospel production, Noah endeavored to brighten up the thematic palette as well.
"The last record was so melancholic, sad, dark, and nihilistic at points," he admits. "Before we started really writing the new record, I went through some things that opened up my mind and made me realize who I wanted to be as a musician, what message I wanted to send, and the feeling I needed to inspire. This is predominantly hopeful. There's a sense of underdogs overcoming adversity. We should be a safe place for people. There's also a musical feeling of uplifting catharsis. It's not entirely happy or sad, but more so regal."
This drove 2018 singles "Careful What You Wish For" and "The Hell I Overcame." Fans immediately responded as the former generated 1.5 million Spotify streams and the latter quickly neared 2 million. With Jolly a world away in Sweden, they finished the record remotely, maximizing the time in between tours to cap off a panoramic vision.
The 2019 single "Burning Out" couples strains of piano and choir with trudging distortion and a sweeping and soaring chant of empowerment, "I was lost, but now I'm found under the lights and in the sound."
"It's about the impact music has made on me and how it saved me in a sense," he continues. "It's about my relationship with myself and music and how I overcame my emotions and took advantage of this ability to reach a better place. I wanted the lyrics to give you a sense of hope."
Evocative of the experimentation, the album slips from choral elegance into a Spaghetti Western-style swing on opener "Kingdom of Cards." The conclusion "If I'm There" climaxes on a beautiful reprise, "Well if I'm there to catch you when you fall, you'll have a friend down in hell after all."
"In some ways, it's a love song," he adds. "It's also a song of forgiveness and acceptance, which is why it's the end. I'm drawing a line in the sand and forgiving. This is something I never would've done in our stuff before."
By imparting a piece of themselves on every aspect of the composition and production, Bad Omens deliver a statement that stands out. "We just want you to feel something," he leaves off. "Nothing in the world is stronger than emotion. It makes us human, gives us soul, and separates us. We tried to make this album like a movie where it captivates you immediately, takes you on a journey, and gives you a positive payoff."