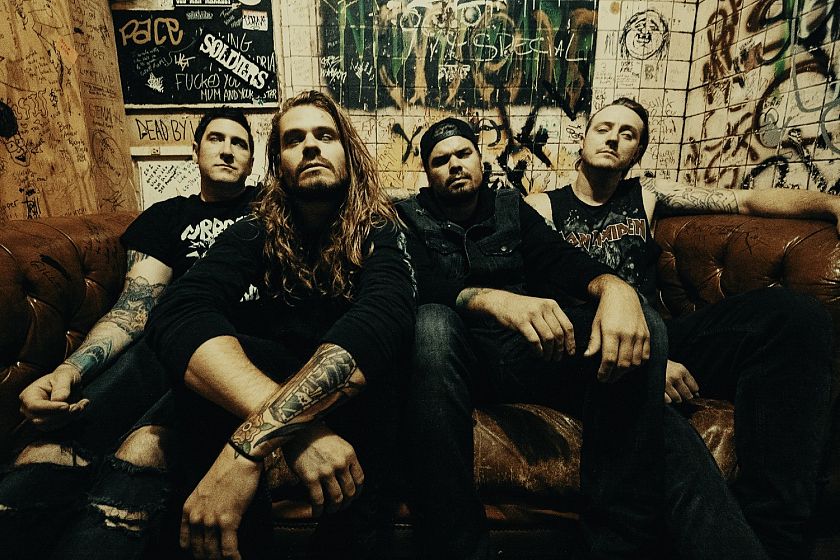 DED
DED
DED has only been together a little more than three years since the release of their debut album, Mis-An-Thrope, but it is clear that their take-no-prisoners approach has already turned a lot of heads.
Originating from Phoenix, AZ, the foursome embodies elements of rock, alternative, and metal, with pop melodies, hooks and choruses, cloaked in some of the densest, most histrionic, headbanging music on the planet. But when you dig beneath the aggressive surface, DED's unexpectedly soulful music is about bringing hope, relief and self-awareness, often speaking to and about the young generations that are contending with many deeply embedded issues in today's society. Rather than the nihilistic, anarchical hellraisers DED might seem to be upon first glance, they're actually mythical heroes desperately trying to save society, not take it down. Joe Cotela (vocals), David Ludlow (guitar), Kyle Koelsch (bass), and Matt Reinhard (drums) are building a community by offering comfort in times of despair.
DED takes their role seriously in speaking directly to those who feel betrayed by the system, damaged and exploited, left in a world in which they have to pick up the pieces. The band's roaring and explosive lead single "A Mannequin Idol (Lullaby)" and anthemic track "Eyes Sewn Shut," released together on a micro-EP entitled Mannequin Eyes, display DED's dynamic songcraft and thought-provoking consciousness.
"The first album was us just being in a place of feeling angry and disappointed with humanity and putting out something that was aggressive. That's where we were," shares Joe. "This time around I felt more of a responsibility to really choose my words and find the correct way to say what I wanted to say. The new music is about clarity through suffering, positivity through negativity, and the frustration that comes with knowing that everyone can be better than they are - that I can be better than I am, because change starts with yourself. We want people to strive and try and be conscious of the things they consume, the way they act, the things they share and celebrate, and the way they live their life – to understand how that all affects their soul and what their legacy is going to be. And that goes for myself as well."
Helmed by powerhouse rock producer Kevin Churko (Five Finger Death Punch, Ozzy Osbourne, Disturbed), "A Mannequin Idol (Lullaby)" and "Eyes Sewn Shut" take the fury of DED's debut and deepens the emotions. On the incendiary "A Mannequin Idol (Lullaby)," DED takes aim at the conveyor-belt music machine and takes on the fake, surface level, vein aspects of our society that have infiltrated our lives and influence our perception of what's real.
"We grew up with such amazing alternative music that was so unique and left of center," says Joe. "It was dangerous and stood for something. I don't remember personally caring about what anyone looked like or if they were pretty. To me, it was about 'are they interesting, are they doing something unique, are they good?' And I'm not saying that there's nothing like that now. There's plenty of it and we are big fans of all of it, but I think that the music industry has just become very safe and kids are growing up watching this."
The stark vocal-and-piano open on "Eyes Sewn Shut" swells into a wall of soaring guitars and driving percussion that create aural shocks to the system like the best horror flicks.
"It's definitely a big sonic avalanche of a track, and hopefully it makes the listener stop and question everything that they deem to be true. It's about breaking the monotony of the things that a lot of people accept and challenging some of the old and obsolete ways of thinking and living," explains David.
With Mis-An-Thrope, DED took the rock world by storm, generating over 25 million streams making several Billboard chart appearances including #1 on the Alternative New Artist chart and #3 on the Top New Artist Albums chart. Singles "Anti-Everything" and "Remember the Enemy" reached Top 20 at Active Rock Radio with SiriusXM's Octane naming DED "Artist Discovery of the Year" and "Anti-Everything" landing in the station's Top 10 for 2017. The band were also nominated by Loudwire for Best New Artist. "Anti-Everything" also made impressive strides at servicing appearing on Spotify's U.S. Viral 50 twice and various playlists across Apple Music, Amazon, and Pandora.
Touring-wise, DED were featured as special guests on KoRn and Stone Sour's "Serenity of Summer" tour and lit up festival stages including Aftershock, Louder Than Life, Rocklahoma, Carolina Rebellion, Rock on the Range and Ship Rocked and will be on tour with In This Moment this Spring.
"I'm proud to be making music that hopefully makes people think, pulls them out of ruts or makes them feel empowered, makes them better themselves, or want to start their own band or use their own voice or express themselves in their own way. It's a circle, and I know because I got caught in that circle because of the people who were doing it before me," concludes Joe.
DED, who are quickly becoming one of rock's most exciting torchbearers, blaze their own trail as they cathartically stare down various beasts - both existential and innate - proving that there's a way to live through the struggle and come out stronger, happier, and more aware of how we look after ourselves and each other.