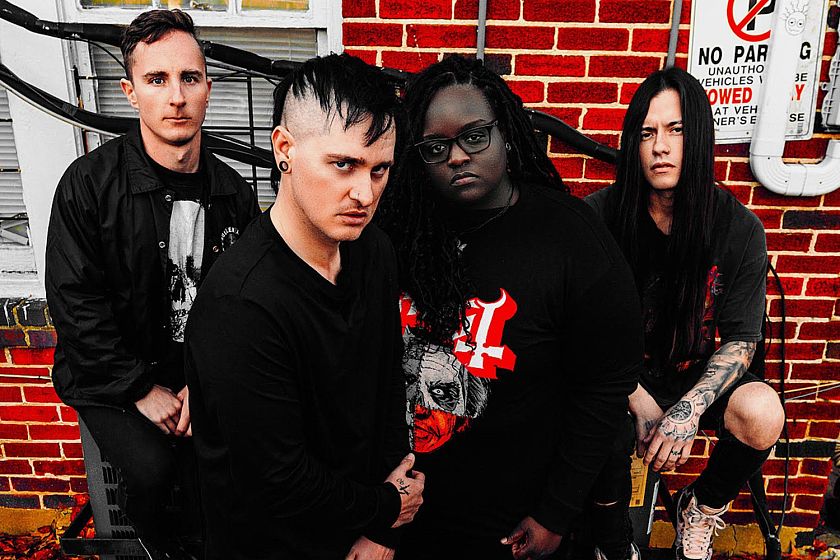 Tetrarch
Tetrarch
"You best get familiar with the name right now!" – Loudwire
Fierce individuality and an outsider mentality are at the heart of TETRARCH, the tenacious powerhouse equally defined by metallic power and melodic hooks. TETRARCH seamlessly blend technical chops and aggressive ferocity with menacing groove and massive choruses. With anthems like "I'm Not Right," "Pull the Trigger," "Oddity," and "Freak," TETRARCH emphasize the brightest of hard rock's future with a respectful nod to its past.
TETRARCH consists of vocalist and guitarist Josh Fore, lead guitarist Diamond Rowe, bassist Ryan Lerner, and drummer Ruben Limas who first came together in Atlanta, Georgia before leaving the American South behind for the hessian hotbed of Los Angeles. Breathtaking prowess and skill are paramount, with Fore's ambitious and diverse vocals, Rowe's much celebrated soloing and songwriting chops, and the persistent pulse of Lerner and Limas pummeling rhythm section.
In 2017 with their debut album Freak, TETRARCH announced themselves to the world with unapologetic intensity. Produced by Dave Otero (Cattle Decapitation, Allegeon, Khemmis) and TETRARCH, Freak is built on a foundation of punishing heaviness while still maintaining the wide-reaching accessibility of hard rock's most commercially successful acts. Freak produced an Active Rock Top 50 hit via its uplifting and empowering title track while garnering huge support from major Sirius XM stations Octane and Liquid Metal.
The band has earned passionate accolades from major press outlets Alternative Press, Gear Gods, Grammy.com, Loudwire, Modern Drummer, Revolver, and She Shreds to name a few. "Tetrarch is taking heavy metal into a new era," raved Red Bull's music-oriented site in an enthusiastic feature. A major milestone to come from the attention the press gave the band happened when Diamond Rowe became the first African American female lead guitarist from the heavy metal genre to be featured in major guitar publications, including Guitar World, Guitar Player, and Premiere Guitar. As Guitar World wrote, "The songs on Freak are built to bludgeon. Between its mix of concrete-heavy beats and lead guitarist Diamond Rowe's armor-piercing thrash leads, none of us are safe."
Hot on the heels of a successful debut album, TETRARCH took their explosive live show on the road uniting open-minded fans across the heavy music spectrum while sharing stages with the likes of Avenged Sevenfold, Korn, Alter Bridge, and DevilDriver, among others. The band also played blistering sets on major American festivals Epicenter and Exit 111.
After relentlessly touring, it was time for the band to take some time off to write and record a new record. Dave Otero, who Kerrang! dubbed "underground metal's premiere producer," was back behind the board alongside the band for the mighty and diverse sophomore set, Unstable. The second album is an even more focused effort than before, with bright flourishes, dense low-end, and soaring choruses, all combining to make a definitive mission statement. "I'm Not Right," the first banger unleashed from TETRARCH's Unstable, immediately landed on digital tastemaker playlists while gaining massive streaming numbers across various platforms.
As Guitar Girl Magazine declared in a glowing profile of the band, TETRARCH "is poised to become one of the biggest bands in contemporary metal."