VORAGOS: Destination Lunasea Beach is a brand new, out-of-this-world rock festival vacation experience! Produced by the best in rock festivals on land and the leaders of rock at sea, Danny Wimmer Presents and Sixthman will conquer land and sea together for this thrilling five-day rock cruise aboard Norwegian Pearl. Escape reality as you rage across the ocean February 16-21, 2022 from Miami to Harvest Caye, Belize – where you'll rock into the night at your own private island music festival on Lunasea Beach!
Voragos is guaranteed to be the ultimate VIP vacation of every rocker's dreams! Guests will party with like-minded friends and fans while enjoying live performances set against the backdrop of the beautiful Caribbean ocean with all the amenities of the ship within arms' reach. Experience multiple onboard sets across numerous stages from artists on the carefully curated lineup, unique artist-hosted activities, and non-stop action and fun entertainment during this history-making event. In addition to the onboard party, we'll spend a day with headlining acts Rob Zombie and Mudvayne performing seaside at Lunasea Beach for a full day private island music festival in Harvest Caye. Nothing is better than partying barefoot in the sand with the best in rock music!
The unreal combo of head-banging anthems on the open ocean, up-close-and-personal interactions with your favorite bands, and a rockin' private island music festival with your friends makes this one vacation you just cannot miss. Don't delay, book now to be part of this history-making event!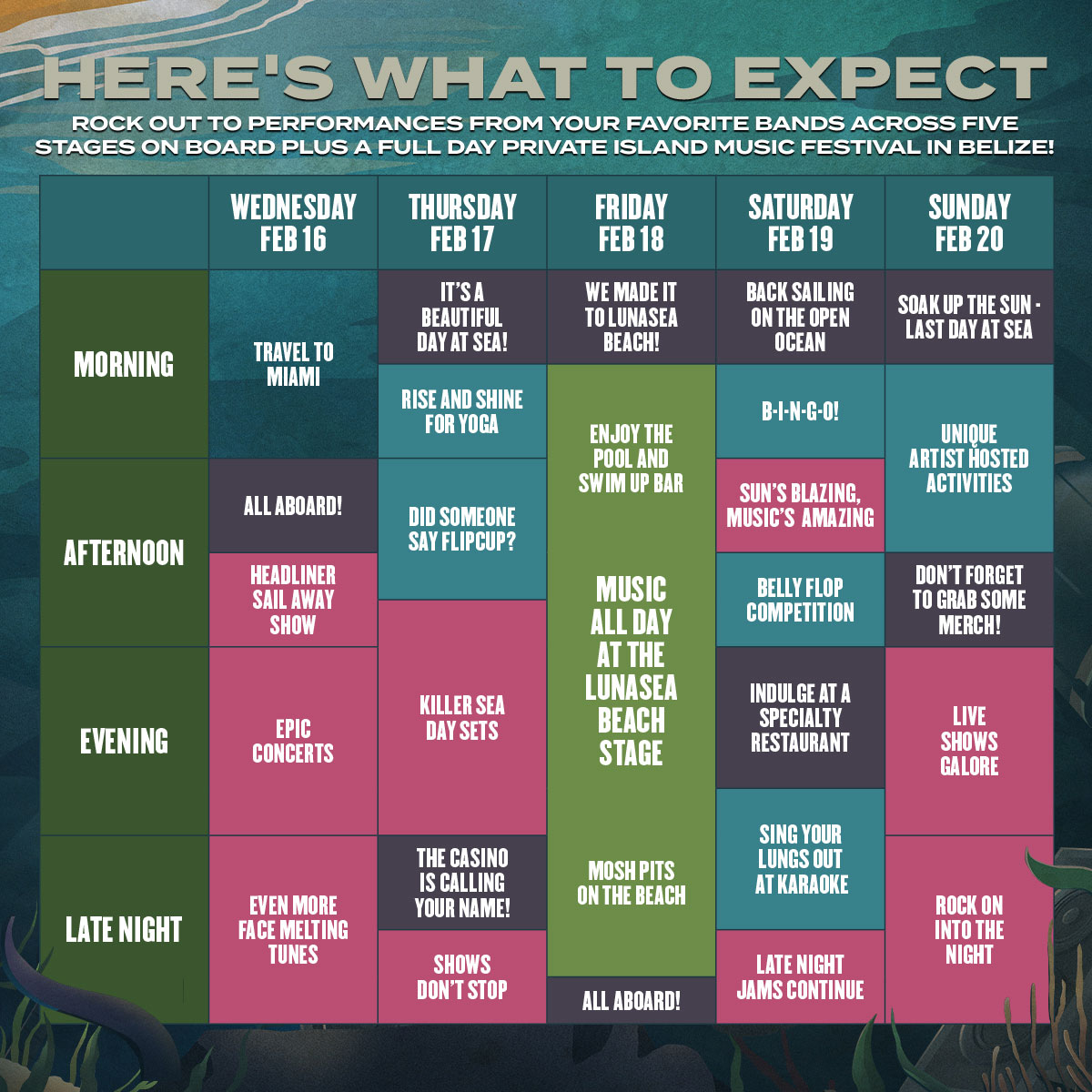 All Aboard!
Itinerary subject to change
When booking flights we recommend that you arrive in Miami no later than 12:00pm, or in Ft. Lauderdale no later than 11:00am on February 16. Return flights should be arranged to leave Miami after 12:00pm on February 21, or leave Ft. Lauderdale after 1:00pm.
Please allow additional time for customs clearance for international flights.
Ahoy, Vacation!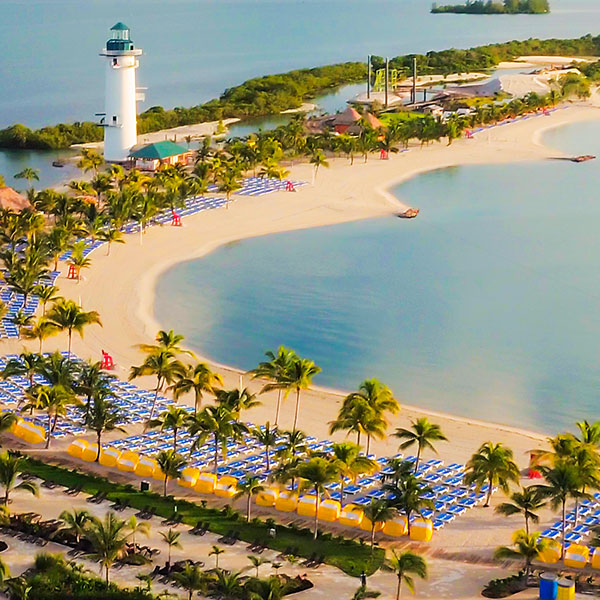 Friday, February 18, 2022
Welcome to Lunasea Beach, the destination for your very own private island music festival in Southern Belize! VORAGOS will be taking over the entire island of Harvest Caye and rightfully christening this port stop as "Lunasea Beach." Escape from the real world and rock into the night with an entire day of performances at the Lunasea Beach Stage by headlining acts (soon to be announced).
In between sets, join fellow rockers to relax in the sun and sand on the 7-acre beach lined with sun loungers or go for a cool dip in the expansive pool and swim-up bar. Feeling more adventurous? Take advantage of the island's fun excursions including zip-lining, water sports in the salt-water lagoon, and snorkeling in the world's second largest barrier reef. Or for a more local experience before the music begins, mainland Belize is just a short boat ride away. Whichever way you choose to spend the day, Lunasea Beach at Harvest Caye has something for everyone to enjoy while you're immersed in the natural, tropical beauty of this premier Caribbean island destination.
Shore Excursions in Harvest Caye, Belize
Please note: Norwegian Shore excursions will not be available until 3-5 weeks prior to sailing. If you prefer, you will be able to book a Norwegian excursion once you have received your reservation number